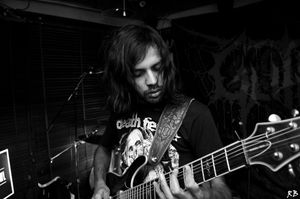 BIO
Having started off as a guitarist very early on, Prateek began using his instrument of choice to compose and produce music. As a born-and-raised Oman-resident for 18 years, he eventually moved to his homeland India to pursue business and management studies. However, he soon began touring worldwide with various bands and outfits, organically giving himself a worldview of musical ideas that developed his versatility as a composer. 
His passion for heavier music led him to compose and produce critically acclaimed death and progressive metal records, but his foray into the world of electronica, avant-garde, indian classical and art rock eventually led him into the world of film composition. He soon realised that he had the strong ability to connect music with pictures and story-telling, and hence began composing for visual media.  
After touring worldwide with his metal band, writing scores and songs for ad films and dabbling with Bollywood music in India, he decided to further his musical interests by applying to top film-scoring programs, with his focus set on one primarily - USC's Screen Scoring program. He got into the program, and has since been mentored by Hollywood veterans such as Pete Anthony, Daniel Carlin, Laura Karpman, Garry Schyman and Patrick Kirst. Having recorded and conducted his music with first-call players in studios like Warner Bros., Capitol and EastWest, Prateek gained rigorous training writing for orchestras and more. That, alongside his previous experience composing for mixed media styles, equipped him to write in many genres with passion, for an ever-changing visual media environment.
Prateek has gracefully received accolades and recognition as an artist, and has been featured on Red Bull Music, Rolling Stone, VICE, Prog Magazine, Rotosound, Metal Injection and a multitude of popular media for his accomplishments. He frequently collaborates with some of the brightest minds across music, film and television worldwide.